Butch Harmon
Professional, Instructor, Benefactor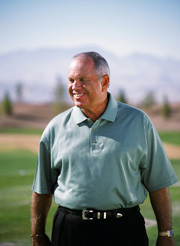 Mr. Butch Harmon burst onto the Las Vegas golf scene in 1997 with the opening of the Butch Harmon School of Golf at Rio Secco Golf Club. Golf is in the Harmon blood. His father is the legendary instructor Claude Harmon. Mr. Harmon has followed in his father's footsteps and is recognized as one of the world's best instructors, and has been voted as such by his peers for several years in a poll in Golf Digest. Mr. Harmon has taught the game to the world's best including Greg Norman, Tiger Woods, Phil Mickelson, Ernie Els, Fred Couples, Natalie Gulbis, Adam Scott and many more, with many of those big names spending a lot of time at his school in Las Vegas. The presence of his school in Las Vegas has brought tremendous exposure to Las Vegas, helping it become one of the world's best golf destinations
He's spent more than 42 years honing golf swings. Mr. Harmon is the only instructor to have two players ranked No. 1 in the world in Norman and Woods. "Butch is the only guy who spends more time on the practice tee than Vijay (Singh)," said Couples. "If Butch says you need something to help your game, you better give it a try.
Mr. Harmon was an accomplished player himself in the early 70s and owns a victory on the PGA Tour, the 1971 B.C. Open. Mr. Harmon's students have combined for more than 100 PGA, European PGA and Champions Tour wins. Mr. Harmon also spent time as the personal golf instructor of King Hassan II and was a teaching professional at Royal Dar Es Salam, Rabat, Morocco. And he gives back to the Las Vegas area via the Butch Harmon/Greg Maddux Celebrity Invitational in addition to donating time and money to the Southern Nevada Junior Golf Tour and The First Tee of Southern Nevada. Harmon is also a big fan of the UNLV Rebels.

1948 Butch's Father, Claude, wins The Masters
1969-71 Competitor, PGA Tour
1971 PGA Tour B.C. Open champion
1995 Sports Illustrated Teacher of the Year
1997 Creates the Butch Harmon School of Golf at Las Vegas' Rio Secco Golf Club
2002 Butch Harmon Player Series created on Southern Nevada Junior Golf Tour
2003-08 Golf Digest Instructor of the Year
Various: Director of Golf, Lochinvar Golf Club, Houston, Texas
Director of Golf, Bayou Golf Club, Texas City, Texas
Head Professional, Crow Valley Country Club, Bettendorf, Iowa
Teaching professional at Royal Dar Es Salam, Rabat, Morocco
Personal golf instructor to King Hassan II, Rabat, Morocco
Brothers Bill and Craig are also Top 50 teaching pros. Other brother, Dick, died in 2006 but was top teaching pro as well.