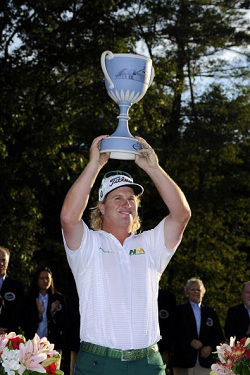 Charley Hoffman first fell in love with Las Vegas while attending UNLV as a member of the Rebels golf team, a perennial national powerhouse. Hoffman was a part of the 1998 team which won the NCAA Championship, and will forever be linked to one of the greatest teams in the history of all UNLV sports. In college, Hoffman adhered to the strict regimen of UNLV Golf Head Coach Dwaine Knight, himself a Las Vegas Golf Hall of Fame inductee, but he was also known as a free spirit and for his go-for-broke playing style.
Hoffman was an honorable mention All-American in 1998, but he was never a can't-miss prospect for the PGA Tour as a collegian. But he was a big part of the success of the Rebels. "Charley was a player who developed a lot in college," says Knight. "He just kept getting better and better. After a terrific junior career in California, he came to us and played a lot as a freshman on a team that included future PGA Tour champions Chris Riley and Chad Campbell. And in 1998 he was a mainstay on the national championship team which won seven tournaments during the year, a record that still stands as of 2012. And that team set the all-time NCAA Finals scoring record."
Following his career at UNLV and some challenging times on golf's mini-tours, Hoffman made his long hitting and fearless style payoff when he earned a full-time spot on the PGA Tour in 2006. He then went on to win the 2007 Bob Hope Chrysler Classic and the 2010 Deutsche Bank Classic, and has become one of the most recognizable players on the PGA Tour who is known for his long, blonde surfer hair and sense of humor.
Hoffman, along with his childhood friend and college teammate Bill Lunde, lives in Las Vegas with his family, and has dedicated his time and money to making a difference in the community. Charley and his wife, Stacey, created the Charley Hoffman Foundation and have helped raise money and awareness for several Southern Nevada charitable organizations.
"It feels great to be able to give back to a community that has supported me and my golf career since college," says Hoffman. "I wouldn't be who I am without the PGA Tour and Las Vegas." Hoffman has earned more than $10 million in his PGA Tour career through mid-2012.
2011 49th Place Finish in PGA Tour FedEx Cup Playoffs
2010 Deutsche Bank Championship winner, PGA Tour
2007 Bob Hope Chrysler Classic Champion, PGA Tour
2006 Earns first PGA Tour Top 10 finish, Chrysler Classic of Tucson
2005 Finishes T19 on the Nationwide Tour money list to secure PGA Tour status
2004 Permian Basin Charity Classic, Nationwide Tour
1998 NCAA Team Champion—UNLV Rebels
1998 Honorable Mention All-America
1995 California State High School Champion*
* First two-time winner in history
1994 California State High School Champion