Jack Sheehan
Benefactor, Writer/Author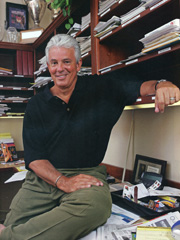 From his junior and college days winning golf tournaments in the Pacific Northwest, to his days on the fairways of Las Vegas' finest layouts, writer/author Jack Sheehan has made a big impact in the golf world, most notably on the Las Vegas golf community. While he was once a standout on the links and was still a low-handicap player at the time of his induction, it's his off-the-course accomplishments where he is all-world. Jack is the author of 16 books, including four on golf, and two of his books have made the New York Times bestseller list. He has received the Lowell Thomas Award as the country's best travel writer, the Nevada Screenwriters Award for best film script, and was once named the outstanding feature writer in the Western U.S.
He also donated much of his time to being the master of ceremonies at countless golf events, and emceed the Las Vegas PGA Tour stop from 1990-2008. He has hosted dozens of junior golf events and has volunteered thousands of hours to local charities with his eloquence and quick wit at the microphone. During that time, he assisted organizations that raised millions of dollars for charities.
"I've received some nice awards in my life, mostly for writing, but this Hall of Fame recognition tops them all. That's because it combines my two great passions, writing and golf, and isn't given just for a single achievement but for a lifetime of work. It's a bonus to be inducted in the same class with three guys that are good friends of mine, and who have each given so much to the game of golf in Las Vegas. Jimmie Bullard, Dwaine Knight, and Ed Fryatt … that's pretty tall cotton. I'm more than humbled by it."
VegasGolfer Magazine Lifetime Achievement Award, 2007
Emcee, 1990-present, Las Vegas PGA Tour event champion ceremonies
Winner, Lowell Thomas Award for Outstanding Travel Articles, 1991
Winner, Nevada Screenwriters Award, 1989
Four-time club champion at Las Vegas Desert Inn Country Club, 1981-1984
Four-time winner of Coeur d' Alene City Amateur
Four-time winner of North Idaho Amateur
Author, Buried Lies with PGA Tour star Peter Jacobsen
Author, Embedded Balls, with PGA Tour star Peter Jacobsen
University of Oregon MVP, 1969
Southern Oregon Amateur champion, 1969
Spokane High School Player of the Year, 1966, 1967
Spokane City Junior champion, 1966-67