Las Vegas Founders Club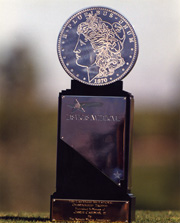 Organizing a PGA Tour golf tournament is a very daunting task. The Las Vegas Founders, a volunteer group of Las Vegas business leaders, spent the better part of a quarter of a century making certain the PGA Tour came back to Las Vegas each year bigger and better than ever. In 1983, the group helped return the PGA Tour to Las Vegas when Las Vegas PGA Tour player Jim Colbert, Las Vegas Golf Hall of Fame Class of 2004, brought together business leaders Chuck Ruthe, James Cashman (Las Vegas Golf Hall of Fame Class of 1998), Tom Hartley, Dick Etter and others to form the Las Vegas Founders Club.
At that time , there were just a handful of courses and about 500,000 residents, but that didn't stop the group from teaming up to offer the first million-dollar purse in PGA Tour history and watching the Las Vegas golf community expand at a dizzying pace. More than 40 new golf courses were created in the next 20 years, and many credit the exposure the city received from the nationally-televised professional golf tournaments as a main reason Las Vegas grew into the world's most exciting golf destination. Fuzzy Zoeller won that inaugural event in 1983—and many other big names followed including Greg Norman (1987) and Davis Love III (1993), but it was in 1996 when Tiger Woods won his first tournament as a professional. Woods played in the Las Vegas event on a sponsor's exemption awarded by the Las Vegas Founders Club. Over the years, the Las Vegas Founders Club hosted dozens of events for the PGA Tour, LPGA Tour, Champions Tour, American Junior Golf Association Tour, and both the men's and women's UNLV golf teams. The UNLV men's event blossomed into "The Masters of College Golf" because of the quality of the teams that annually play in the tournament.
The Las Vegas Founders Club was a major influence on helping UNLV lure future College Hall-of-Fame Golf Coach in 1987, and have continued to support the program over the years in many ways. The UNLV program has produced multiple PGA Tour players, won the NCAA Championship in 1998 (Las Vegas Golf Hall of Fame Class of 2002), and developed two individual champions in 1991 (Warren Schutte) and 2004 (Ryan Moore). The Las Vegas Founders Club also helped create the UNLV Women's Golf program and have raised more than $13 million for dozens of other worthy Las Vegas charitable organizations. Knight speaks for all of the organizations when he says: "The Las Vegas Las Vegas Founders Club have been the cornerstone and foundation of our program. Their initial support for Rebel golf helped us get to where we are today. And they have remained and have continued to support us through the years and they are the ones who made it happen for us at a national level."
Las Vegas Founders Club highlights
In 1983, the Las Vegas Founders Club is successful in returning the PGA Tour back to Las Vegas.
The 1983 Panasonic Pro-Celebrity Classic becomes the first million-dollar purse in PGA Tour history
24 years operating the PGA Tour event in Las Vegas
16 years operating the Las Vegas Senior Classic
Raised more than $13 million for Las Vegas area charities
Created and operated home events for UNLV Men's and Women's Golf
Operated the American Junior Golf Association's Las Vegas Founders event
Awarded Tiger Woods a sponsor's exemption in 1996, when he won his first PGA Tour event in Las Vegas
Founding sponsors of The First Tee of Southern Nevada