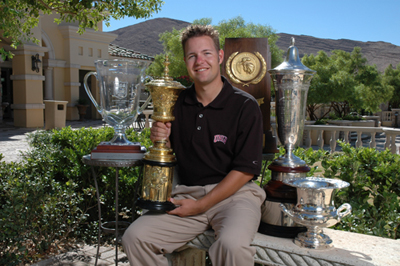 Ryan Moore won the individual NCAA title in 2004, and is regarded as having the best golf career in the history of the UNLV golf program. But Moore is also known worldwide for possibly putting together the best year ever in the history of amateur golf. In that magical year of 2004, Moore also won the U.S. Amateur, the U.S. Publink Links, the Western Amateur, and the prestigious Sahalee Players Championship. He also earned two other collegiate victories in addition to the NCAA title and finished in the top 10 in 10 of the 13 college tournaments he played. And in 2005, he finished T13 at The Masters, earning the honor of Low Amateur.
The bio for Moore could fill this entire page, but the following are some more of accolades he collected during the magical year of 2004-05: Earned first-team All-America honors making him a three-time collegiate All-American and he would add a fourth in his senior season. He was selected to the U.S. Palmer Cup team, marking his second appearance on the squad. He won the Mountain West Conference Championship and was selected MWC Player of the Year and named to the All-MWC team, and would add a fourth in his senior year. He had a scoring average of 69.29, which is the second-lowest in NCAA history to Wake Forest's Bill Haas who scored 68.93 also in 2004. Moore's name is at the top of many UNLV season and career records, including winning seven career tournaments, the most in the storied program's history.
"His time at UNLV was remarkable and historic for both UNLV and the world of golf," says Las Vegas Golf Hall of Fame inductee and UNLV Head Golf Coach Dwaine Knight. "It was arguably the greatest amateur year and career in history. And it was great for us to be a part of that. Anytime someone's name is mentioned with the likes of Tiger Woods and Bobby Jones, it's very special. And really nobody has ever had a year like he did in 2004."
Moore is a PGA Tour champion, and has earned millions through his play. But he has also become known for doing things his own way, eschewing large endorsement deals to stay true to his beliefs. Moore continues to live in Las Vegas in addition to spending time in his native Washington. He also created a golf management company in Washington. And despite having several opportunities to turn professional following his junior year, he decided to come back to UNLV and graduate.
2011 Makes cut in 18 of 22 PGA Tour events
2011 T5 in World Golf Championships—Accenture Match Play
2009 Wyndham Championship winner, PGA Tour
2005 Low Amateur The Masters
2004 U.S. Amateur Champion
2004 NCAA Champion
2004 Western Amateur Champion
2004 Sahalee Players Champion
2003 Member, United States Walker Cup team
2001 Washington State High School Championship
2000 Pacific Northwest Junior Golf of the Year