Edward Fryatt
Amateur /Professional Player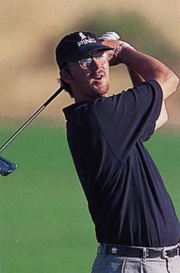 From junior golf to college golf to an outstanding amateur career, and an all-too-brief but highly accomplished professional career, Eddie Fryatt has been a big-time winner all the way. After capturing nearly every title as a junior golfer in Southern Nevada, Fryatt went on to become a three-time All-American at UNLV, was the Southern Nevada Amateur of the Year three-straight years, and was the Las Vegas City Amateur champion five-straight times. He also won the Nevada State Amateur title in 1992.
As a professional, Fryatt won five times around the globe in the late 1990s, including four national opens. When he earned his way onto the PGA Tour in 2000 through the Nike circuit, he had five top-ten finishes, including a third at the MCI Classic at Harbor Town, a fifth at Hartford and a seventh at Phoenix. For a time, Fryatt was also the holder of an all-time PGA Tour record of recording eight consecutive birdies. The record was broken in 2009 by Mark Calcavecchia.
At the time of his induction, Fryatt had won well over two million dollars in his professional career and was retired from professional golf. "When I got the call informing me that I had been selected by the committee, it really came out of nowhere but it was a very nice surprise," said Fryatt. "It took me right down memory lane for about an entire week. I thought about all the great stuff, and even the bad stuff because you can't have one without the other. But I have no regrets and it was a great ride while I had it going."
Nike Hershey Open Champion, 1999
Malaysian Open Champion, 1998
China Open Champion, 1998
India Open Champion, 1997
Indonesian Open Champion, 1996
Earned more than $2 million during PGA Tour career
Once recorded 8-straight birdies on the PGA Tour
Winner of 1994 NCAA West Regional Tournament, 66-73-68—207
All-Conference at UNLV, 1992 (2nd team), 1993 (1st team), 1994 (1st team)
Clark County Amateur Champion, 1992, 1993
Nevada State Amateur champion, 1992
Southern Nevada Golf Association Player of the Year, 1991, 1992, 1993
Las Vegas City Amateur winner, 1989, 1990, 1991, 1992, 1993
Southern Nevada Amateur champion, 1989