Whether on the course or helping form the swings of the next generation, LPGA Tour player and teaching professional Kerri Clark has given herself to the game she loves.
Kerri was influenced by her father, Jerry, a former president of the Southern Nevada Golf Association and was one of the best junior golfers in Southern Nevada. She was also an NCAA champion at Weber State and qualified for the LPGA Tour before becoming an instructor. She played on the LPGA Tour in 1987 an d 1991 and on the European Women's Tour in 1988 and 1989.
Clark continues to make a deep impact as a teacher, with an emphasis on molding the swings and minds of female players. She is a LPGA Class A teaching professional.
Whether as a teacher or player, Kerri Clark is now a Las Vegas golf hall of famer.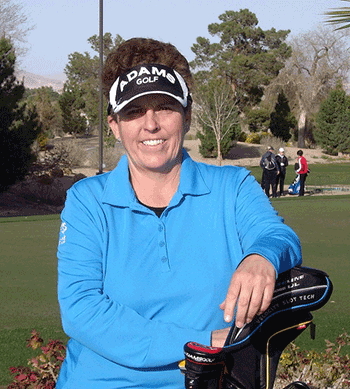 Junior
1979 – Nevada State Golf Association Junior Match Play Champion
1979 – SNJGA Player of the Year
1980 – SNJGA Player of the Year
1981 – Arizona Silver Belle 1st Place
High School Golf
1977 – 1981 Rancho High School MVP
1979 – Southern Zone Champion
1979 – Nevada State High School Champion
1980 – Southern Zone Champion
1980 – Nevada State High School Runner Up
1981 – Rancho HS Outstanding Athlete
Collegiate Golf
1981-1985 Weber State MVP
1982 – Member Division II Women's National Champions
1983 – NCAA Long Drive Champion
1983 – Winner Mike Farrell Lady Wildcat Tournament
1985 – National Small College All American
1985 – Division I All-American
1995 – Inducted Web State Hall of Fame