Robert Gamez
Professional and amateur golfer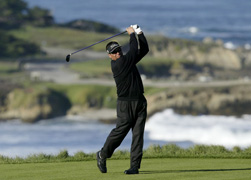 Mr. Robert Gamez is one of the earliest faces of Vegas golf. Born and raised here, Robet attended Clark High School where he was a standout. He won the 1985 Southern Nevada Amateur as well as the 1988 Clark County Amateur. "Robert Gamez was one of those rare individuals who had a natural gift for the game," said Dick Huff, Las Vegas Golf Hall of Fame inductee, Class of 2004, and a former teacher of Mr. Gamez. "When I began working with him at age 14 he needed very little help with his mechanics. Later in his career we worked on the mental aspects of the game I felt could make him a champion and the rest is history." Gamez was a dominating player in the Southern Nevada Junior Golf Association and then in the Southern Nevada Golf Association, where he won four-straight Player of the Year awards.
Mr. Gamez went on to play at the powerful University of Arizona before turning pro late in 1989. He played a couple of events as a pro before becoming a full PGA Tour member. He promptly won his first time out, claiming the 1990 Northern Telecom Open. He then backed up that victory by winning the 1990 Nestle Invitational in dramatic fashion, holing out a 7-iron from 176 yards on the 72nd hole for an eagle to beat Greg Norman. His brother, Randy, was on the bad as his caddie. In fact, there's a plaque in the middle of the fairway commemorating the event. Gamez then wen about 15 years between victories, but blitzed the field en route to a championship at the 2005 Valero Texas Open. For his career, he had won more than $8.5 million through 2008, including more than $1.5 million in 2003, when he was 45th on the PGA Tour money list. Mr. Gamez also won the 1994 Casio World Open in Japan.
He currently lives in Celebration, Fla., and is the host every year of the Robert Gamez Celebrity Invitational that benefits his foundation. But is heart still has a place for Las Vegas. "Growing up in Vegas taught me how to play golf," Gamez said. "I played a lot at the Tropicana and Muni. Playing the old courses like those and the Desert Inn taught me how to play shots I needed to learn how to win. That made me a much better ball striker."
1985 Southern Nevada Amateur champion
1985-88 Southern Nevada Golf Association Player of the Year
1988 Clark County Amateur champion
1989 Member, United States Walker Cup team
1989 Winner, Fred Haskins College Golfer of the Year Award
1989 Winner, Jack Nicklaus College Golfer of the Year Award
1989 Porter Cup champion
1990 Northern Telecom Tucson Open champion
1990 Nestle Invitational champion
1990 PGA Tour Rookie of the Year
2005 Valero Texas Open champion